As a teenager, I belonged to a youth group. I took a leadership role with the younger youth in the group. Each week we met and my role was to run fun engaging group games with them. Here are some of the kid's favourite indoor youth group games that I ran. These games make awesome energizers!
Human Pinball
A physical group game played with a ball.
Form a circle with feet touching the player's feet next to you. One hand behind the back and the other hand is your bat. Feet spread apart are the goals. Each player has a goal. A ball is tossed in. Players bat the ball trying to shoot it between another player's feet (their goal). If successful, that player is out! Players can also get out if the ball passes between two players, then both these players are both out. Players who get out can try and catch a stray ball on the full. If they manage to do so they can re-enter the game. Keep the game going until only two players remain.
Poisonous Stump
A fun energetic indoor youth group game. Anyone who touches the poisonous stump is out!
Form up a circle around a pile of cushions (the stump). Player all hold the wrists of the players either side of them. Game starts and players try and force another player to touch the poisonous stump, without touching it themselves. Any player who touches the stump is out and the circle reforms around the stump. Repeat the process until only one player remains!
I Love You Honey
A hilarious circle group game where players are not allowed to smile!
Players form a circle with a chosen person to start in the middle. This player holds a bunch of flowers. The player with the flowers approaches another player and presents their bunch of flowers then, using a romantic voice, says "I love you". The player being presented the flowers must maintain a serious face and reply, "I love you too, but I'm not allowed to smile". If this player smiles, then he/she is out. This player then takes the place of the player doing the serenading.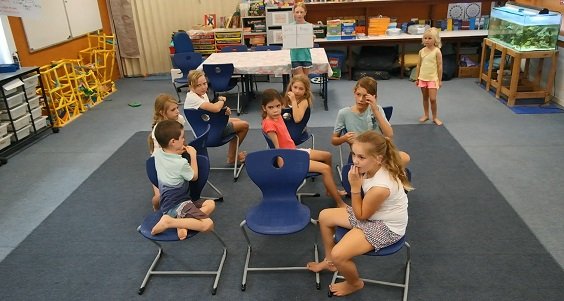 Silent Tic Tac Toe
Just like the pen and paper game, Naughts and Crosses, except this one is played with people (Girls vs Boys).
Set up nine chairs or nine mats with 3 rows of 3. Girls form one line and boys another. A player (say someone from the girl's team) starts by selecting then sitting on a chair (or mat). Then a boy sits in a chair. Next a girl. Then a boy. Keep going until either the girls or the boys forms a row of three (3 boys or 3 girls). That team that forms a row of three wins the round. Repeat until one team wins five rounds to win the game. The game is called 'Silent' Tic Tac Toe, because players are not to speak or give any hints to team mates during the game.
Looking for more indoor youth group game ideas. Check out these Circle Games!
Plenty more fun indoor youth group games found on our Wacki App. Check out Wacki App HERE.